Designed for every learner
Assist
Assist students in their development of critical thinking and problem-solving skills.
Prepare
Prepare students to consider context or incorporate different perspectives to evaluate their thoughts or actions.
Explore
Explores the complexity of local-global connections, views, values, and assumptions to understand multiple perspectives.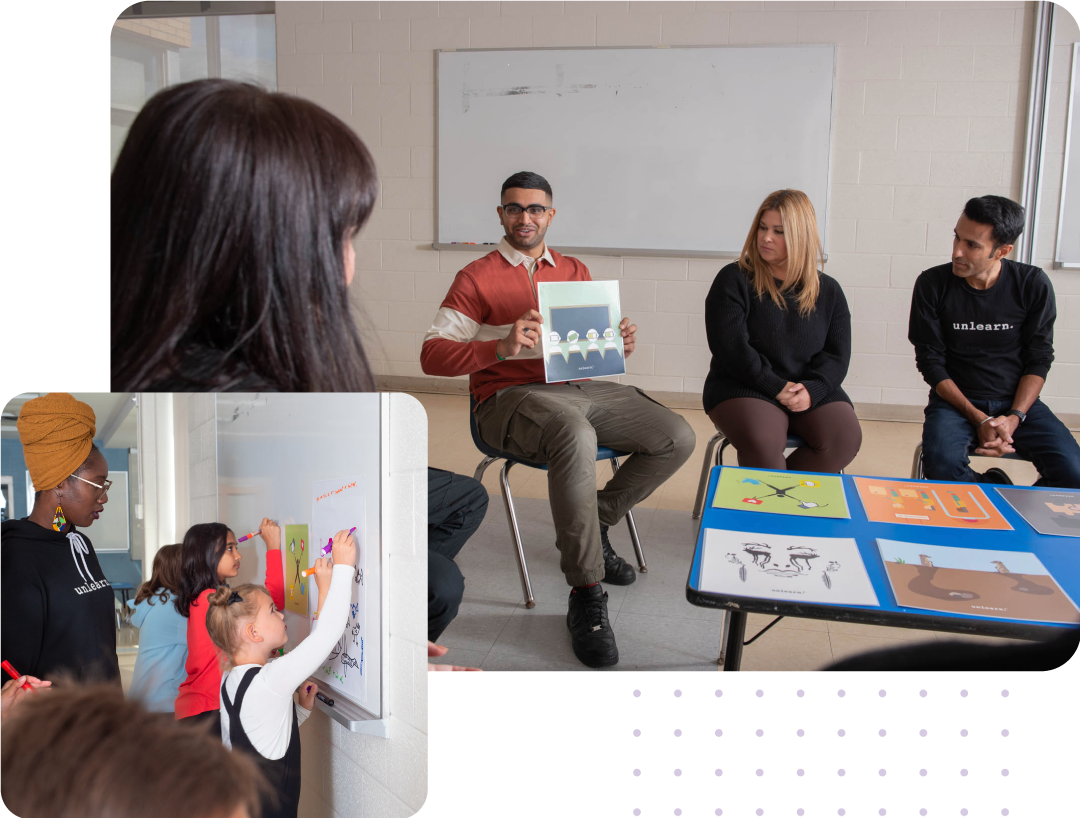 Critical thinking by design
Our critical thinking resources help educators and managers create a path to identify and eliminate discriminatory practices and ensure that students and staff are given an opportunity to see themselves and their colleagues reflected in their learning.

At unlearn, we help create a space where everyone feels a sense of belonging while empowering people to have transformational dialogue about equity and human rights.
Culturally Relevant & Responsive Pedagogy: An Educator's Guide (EC0001)
This course highlights key Culturally Relevant and Responsive Pedagogy information from the Ontario Ministry of Education and provides resources from leading experts in equity education. Duration: 2 hours
Children Belonging - 9-12 (LP0003)
Five lesson plans with accessible activities that can be used right away created by educators for educators. Curriculum connections for a wide range of grades. Connected to EDID and the Ontario Equity Action Plan Lessons for sometimes challenging topics that can be trusted.
Islamophobia (EC0007)
In this e-course, you will have the opportunity to deepen your understanding of what Islamophobia is, what it looks like in schools and society, and the impact it has on students and families. You will be invited to reflect on unlearn designs and make connections to both individual and systemic aspects of Islamophobia. You will also be provided with a variety of resources to help you continue to build your understanding of Islamophobia so that you can work to dismantle it in your schools and classrooms.
3 Course
Bundle 1
A great opportunity to improve your knowledge.
How to Have Critical Conversations with Students (EC0005)

>

Gender Inclusive Classrooms (EC0004)

>

Unconscious Bias in the Workplace (EC0006)

>
"unlearn. provides EVERYONE an entry point wherever they are in discovering their own bias, their own prejudice, and creating school community focused on equity and human rights."
Merrill Mathews
Equity Lead, DDSB
"We've used the unlearn poster packs and apparel at every elementary and secondary school in our district to spark inquiry and raise critical consciousness among educators and learners(...) I would strongly recommend unlearn to any educator in a K-12, post secondary or adult learning context."
Denise Cole
Equity and Inclusion IRT, SCDSB
"Students gain confidence as critical thinkers as everyone is able to enter the conversation, making comments and connection to the content in the poster designs. I will continue to use unlearn posters to promote critical thought and encourage my students to see the world through multiple lenses and perspectives."
Shannon Morgan
Grade 2 Teacher, Irma Coulson Public School, HDSB
Who's unlearning?
We're proud to have worked with these schools...