April 18 2023 | 9:30 AM - 4 PM ET
Anti-Racist Education: The Way Forward
Strengthening Communities
EMPOWER | SUPPORT | INTEGRATE
In-person event

Small Arms Inspection Building, Mississauga, ON


Welcome to the unlearn inEquity Series!
After a very long wait, unlearn is hosting an in-person conference for educators, principals, system leaders, superintendents, human resources staff and all other educational professionals.

What to Expect
Topics will be discussed through an educational lens because educators, system leaders and other educational professionals have the most important role in shaping the minds of young individuals and creating a safe, welcoming, and inclusive environment for everyone.
This one-day conference aims to:
Empower
Empower participants with practical tools and resources for the classroom and beyond.
Support
Support K-12 educators with applicable information and educational services.
Integrate
Guide participants on how to integrate educational resources and the process of unlearning into their classrooms and lifestyles.
What's Included?
A Keynote Presentation by Dwayne Morgan

A Panel Discussion with Clarence Cachagee, Yasmine Simone Gray, Dr. Laura Mae Lindo, Dr. Vidya Shah, hosted by unlearn's Founder Abhi Ahluwalia

A 1-on-1 interview facilitated by Abhi Ahluwalia featuring Shree Paradkar

Exclusive access to pre-order Poster Pack 5

Showcase of unlearn's latest educational tools and resources!

Surprise swag bags for all attendees

Multiple raffles and challenges for prizes including unlearn Poster Packs, unlearn E-Courses, merch and more

Morning snacks and lunch

Free parking on site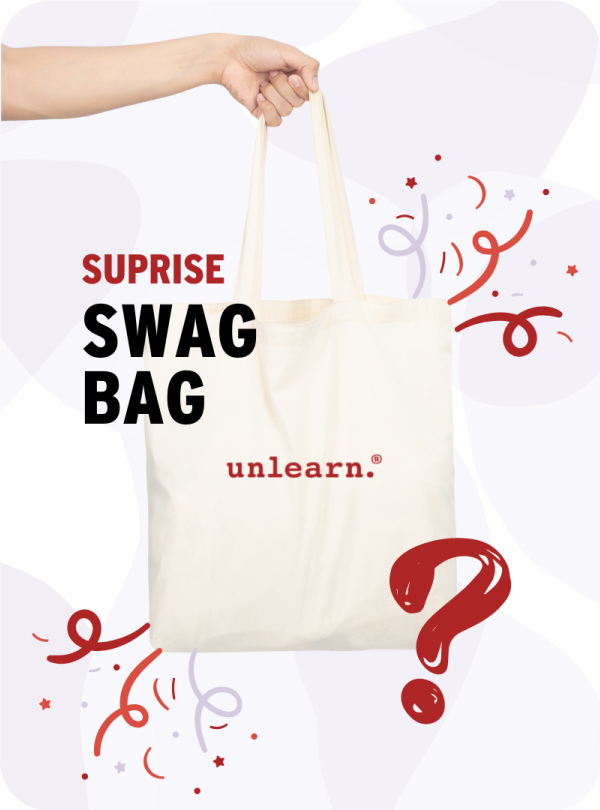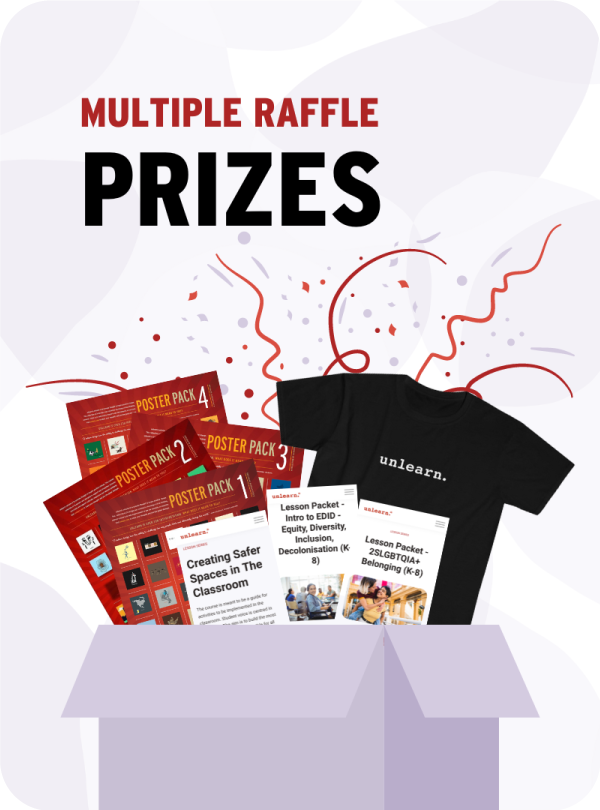 Dwayne Morgan
(he/him)
Writer. Speaker. Connector.
Morgan started his talent production company Up From The Roots in 1993 while he was still a student in high school. Today he spends his time sharing his poetry and the secrets to his success with audiences throughout North America, the Caribbean, and Europe. Morgan spends countless hours working with young people and advocating for gender equality through his work. As a speaker, Morgan is dynamic, engaging, and down to earth; he can often be found sharing his story, and the philosophies that have helped him to remain relevant in the ever changing entertainment industry.
Learn more about Dwayne Morgan at
https://www.dwaynemorgan.ca
Panelists
Clarence Cachagee
(he/him)
Clarence Cachagee originates from Chapleau Cree First Nation and calls the Waterloo Region his home. He has an undeniable spirit for change. With a primary focus on working with the Spirit within, he is a helper, visionary and author who is known for investing his whole self into his community. Clarence has worked for a variety of social service organizations in the field of homelessness, supportive housing, and education, with a focus on supporting Indigenous communities.
Most recently, Clarence released his biography, North Wind Man, in which he courageously shares his challenging and inspiring path to becoming a helper and leader in his community — a multi generational healing journey that reveals cycles of trauma and oppression, beauty and resilience. He has also initiated Crow Shield Lodge (
www.crowshieldlodge.com
), a non-profit Indigenous organization where he is currently the Executive Director, focusing on land-based healing and teaching for all nations.
Yasmine Simone Gray
(she/her)
Yasmine Simone Gray (she/her) is an artist, researcher, consultant, educator, and public
speaker based in Toronto, Ontario, Canada. She is an experienced facilitator with a decade of
expertise in creating educational materials to make social justice education more widely
accessible to a variety of audiences including children and families, frontline human service
professionals, post-secondary students, and managers in the non-profit sector. Yasmine has a
Master's degree in Critical Disability Studies from York University where she studied the impacts
of anti-Black racism and ableism on Black, disabled girls and women in education. Her research
interests are in Black disability studies, madness, critical suicide studies, critiques of mental
health literacy, COVID and LongCOVID. Her work centres Black children, youth, and families
located at the intersections of race and disability. Yasmine is a former member of the Disability
Justice Network of Ontario (DJNO) Youth Action Council and is passionate about advocating for
disability justice in key areas including healthcare and education. A storyteller and creative at
heart, Yasmine has performed as a feature spoken word poet at RISE, the Art Gallery of York
University, Heritage Skills Development Centre, Up From the Roots, and JAYU's human rights
film festival. In 2022, Yasmine's collage art depicting her experience of anti-Black racism and
ableism in higher education was featured at the Resiliency Looks Like photo exhibit organized
by the Toronto Youth Equity Strategy. Yasmine's writing has been featured in The Toronto Star,
Briarpatch, and The Grind.
Dr. Laura Mae Lindo
(she/her/elle)
Dr. Laura Mae Lindo (she/her/elle) is a respected activist and educator who holds both a Masters and PhD in Education. Committed to centering the most vulnerable in all she does, Dr. Lindo's work is enhanced by her acute knowledge of how to put anti-oppression theories into practice. A courageous public speaker, Dr. Lindo is known to take on issues often left unaddressed by the mainstream. From philosophy to politics, and from the academy to the community, Dr. Lindo grounds her practices in gratitude and love.
Dr. Vidya Shah
(she/her)
Dr. Vidya Shah is an educator, scholar and activist committed to equity and racial justice in the service of liberatory education. She is an Assistant Professor in the Faculty of Education at York University, and her research explores anti-racist and decolonial approaches to leadership in schools, communities, and school districts. She also explores educational barriers to the success and well-being of Black, Indigenous, and racialized students. Dr. Shah teaches in the Master of Leadership and Community Engagement, as well as undergraduate and graduate level courses in education. She has worked in the Model Schools for Inner Cities Program in the Toronto District School Board (TDSB) and was an elementary classroom teacher in the TDSB. Dr. Shah is committed to bridging the gaps between communities, classrooms, school districts and the academy, to re/imagine emancipatory possibilities for schooling. You can learn more about her work at
https://www.yorku.ca/edu/unleading/
1-on-1 Interview
Shree Paradkar
(she/her)
Shree Paradkar (Puh-raad-keur) is a Toronto Star columnist where she writes ground-breaking articles on issues of anti-oppression, particularly race. She is also the country's first internal ombud in a newsroom, a position created to develop an anti-racist newsroom and to make newsrooms less hostile to journalists of marginalized backgrounds. As the 2018-2019 recipient of the Atkinson Fellowship in Public Policy, Shree went around the world in search of success stories on education without oppression. Her findings were published in the Toronto Star and are available free as a pdf booklet. She is winner of two Amnesty Awards for Human Rights reporting. Shree won the Racial Justice in Media award by the Urban Alliance of Race Relations. She has been a journalist in Toronto, Singapore, Bangalore and Mumbai.
unlearn inEquity Series Host
Abhi Ahluwalia
(he/him)
unlearn was founded by Abhi Ahluwalia. In 1972, Abhi's family was expelled from Uganda, East Africa. When the government was overthrown, they had 90 days to leave their home. They were told, "You don't belong here."He created unlearn so no one would ever have to feel alone at school or in the workplace. Abhi envisions a world where we see the humanity in everyone and treat people with dignity, kindness and respect. He believes there is so much we need to learn and unlearn about ourselves and each other. Abhi welcomes others to join unlearn and its efforts to create a world where everyone can show up and be celebrated for being their authentic selves.

Agenda
April 18, 2023
Welcome / Territorial & Land Acknowledgement
Keynote Presentation: Dwayne Morgan -
If This Skin Could Talk
1-one-1 Interview: Shree Paradkar
Panel Discussion with Clarence Cachagee, Yasmine Simone Gray, Dr. Laura Mae Lindo, Dr. Vidya Shah
In-person conference at:
Small Arms Inspection Building (SAIB)
1352 Lakeshore Rd E
Mississauga, ON L5E 1E9
Thank you to our sponsors & supporters!
More Announcements Coming...
Stay Tuned!
Got Questions?
Let us know how we can help!
About unlearn.
unlearn is a social enterprise with a passion for inspiring critical thinking in educators, students and communities. We use thought-provoking designs to challenge people to think about their unconscious biases, strengthen their equity lens and advocate for social justice and human rights.
We aim to help shape a world where everyone feels a sense of belonging and where people are celebrated for being their authentic selves.